---
---
---
I've mentioned several times on this how much I love the resources available to our school through our community, whether it is access to world-class museums, music, and dramatic productions, or just amazing professionals and researchers who can come in as special guests/presenters. Another resource we have comes because of our close relationship to the University of Illinois.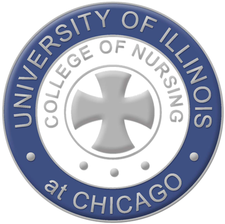 The nursing program at U of I includes a class called NURS 355: Clinical Concepts and Processes in Children's and Family Health. (Technically, the program is run out of the University of Illinois at Chicago, with the students in our area enrolled in the Urbana Regional Program. This is similar to the University of Illinois at Chicago College of Medicine in Peoria.) A part of this course requirement is for student nurses to do practicum experience in local schools for six weeks, and Wiley is one of those school that gets to participate.
This is why my students got to meet Miss Joan this morning. She will be in our classroom each Thursday morning. Today she came to observe but quickly jumped in with the class and was helping students with our review of adding, subtracting, and comparing fractions. After Spring Break, she will be presenting health lessons when she is here, and then will be helping in the classroom wherever needed.
My students and I are very excited to have Miss Joan with us!
---
---
---
---